---
Millennials vs Boomers by CensusMapper
Based on Canada Census 2016
This map shows the number of Millennials vs Boomers in each area. For this map Millennials are defined as people born in the years 1982 through 2000, Boomers are those born 1946 through 1964.
Greener areas have higher ratios of Millennials and brown area have higher ratios of Boomers. The value is the base 2 log ratio of Millennials to Boomers, so a value of 1 indicates twice as many Millennials as Boomers, and -1 indicates twice as many Boomers as Millennials.
Overall in Canada Boomers still outnumber Millennials slightly at 8,838,895 Boomers vs 8,496,030 Millennials. Among the provinces and territories we see that Nunavut stands out with over twice as many Millennials than Boomers, followed by Northwest Territories, Alberta, Saskatchewan and Manitoba with still significantly more Millennials than Boomers. Yukon and Ontario are quite balanced, followed by British Columbia, Quebec and the Maritimes as provinces with more Boomers than Millennials, with Newfoundland and Labrador being the most Boomer-rich province.
Generally we see that rural areas are typically heavier in Boomers, except the areas dominated by First Nations, especially the northern parts, where Millennials outnumber Boomers.
The larger census metropolitan areas have more Millennials than Boomers, with Edmonton] and Calgary] leading the way, followed by Toronto and Vancouver. Montreal] and Ottawa] are almost balanced. Some of the smaller CMAs like Victoria and Kelowna on the other hand have significantly more Boomers than Millennials. But even in these areas we see that Millennials tend to outnumber Boomers in the central parts.
The idea for the map came from a nice overview map for Great Britain made by Alisdair Rae, the map is included below for convenience.
Alisdair Rae's map for Great Britain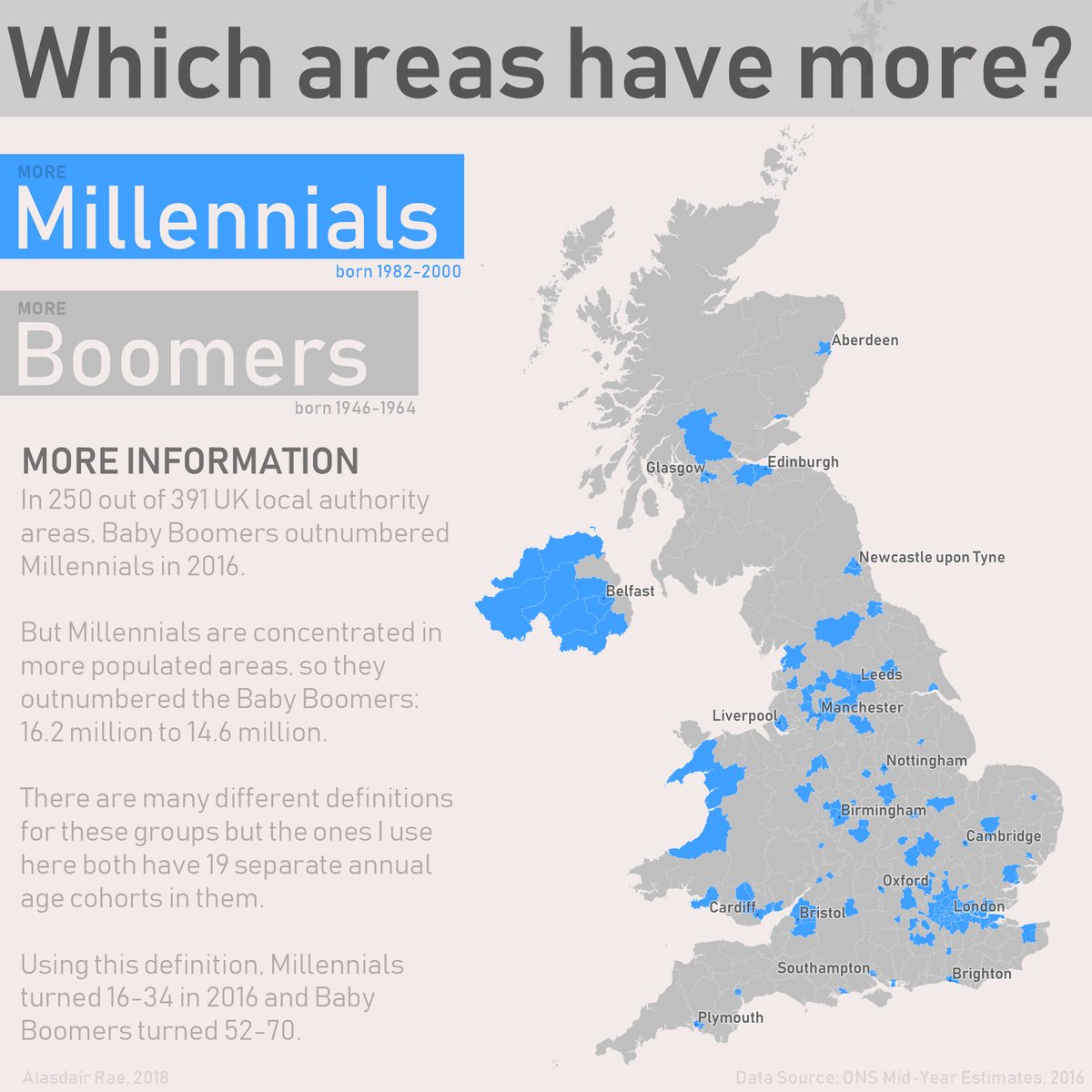 2018-01-11